With the College Football Bowl games being announced today, I thought I'd take a crack at writing up some sports viewing weekends that would make for great holiday season travel.  With all but the National Championship game being announced, loyal alum and fans can start to make their travel arrangements.  Bowl games, in and of themselves are usually worth the trip alone.  I've been fortunate to attend numerous events over the years including countless bowl games here in Arizona.  Most of the better bowls will have plenty of opportunities to hang out with fellow fans.  There are always pep rallies, pub crawls, parades and a host of other options to keep you busy.
But why just travel to visit one game?  Why not parlay the airfare into a couple of games.  Don't forget that there's plenty of NFL, NHL and NBA events happening around these Bowl games.  While the major leagues are in charge of scheduling for their teams, many cities lobby the leagues to plan events around the bowl games to create an even greater experience for the visiting fan base.  So, while you may be in town for your favorite college team, you may be able to catch another basketball, hockey or NFL game.  In some rare instances, you might be able to catch a couple of your favorite teams in one weekend.
So, with that, I'll take a crack a coming up with a few weekends that sound exciting.
Of course, the first thing I did was look at where Penn State landed.  With the Pinstripe Bowl being their first bowl game since the NCAA overstepped their bounds, it makes for an interesting setting.  Sure, it's not some sunny locale with a beach, but with plenty of nearby stadiums and teams, chances are pretty good that you can parlay the Saturday game on December 27th into something more.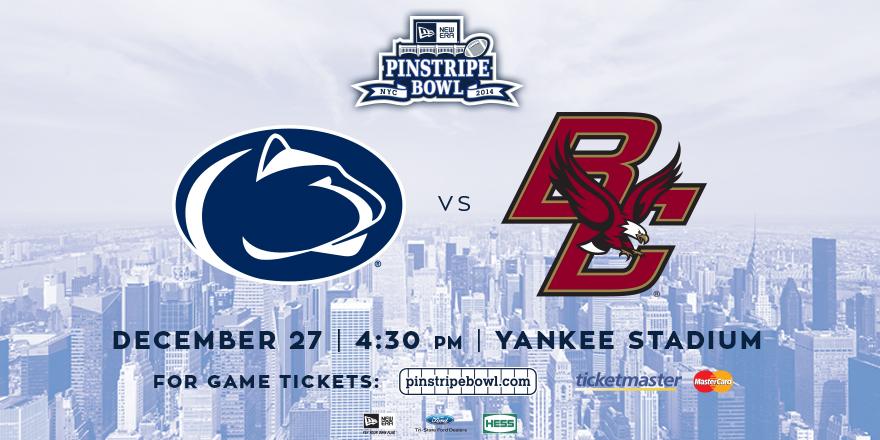 Sure enough, the scheduling Gods were on my side.  In fact, there's something for every Penn State fan – regardless of if you're from the east or west side of the state.  The best and easiest option is for the Eagles/Giants on Sunday after the Penn State vs BC matchup.  Then, if you're lucky enough to stick around, the Pens visit the Devils on Monday.
For the hard-core fan, consider making Saturday a double-header by heading to the Garden for an evening matchup featuring the Devils and Rangers.  Sure, you'll get there a little late, but a double-header is worth the trip.  If hockey's not your thing, head over the Brooklyn for the Nets vs Pacers game.  It's a little further away, but the 8pm tip might allow you to catch more of the game.
If you're a Bills fan, like me, you might even consider making the trip from Yankee Stadium on Saturday, to Foxboro on Sunday for the season-ending division matchup with the Pats.  Maybe the Bills will be playing for their playoff lives!
What Bowl game are you most interested in attending?  Shoot me a note and I'll send you a schedule.